Ever since the collapse of Lehman Brothers almost a decade ago and the collapse of world trade which followed, the shipping industry has been plagued with a recurring theme: intense volatility of the freight market, with very steep ups and downs in what seems like a rollercoaster ride, which the industry hasn't been accustomed to. However, as the downward cycle seems to end, could the freight market be set for a return to normalcy again?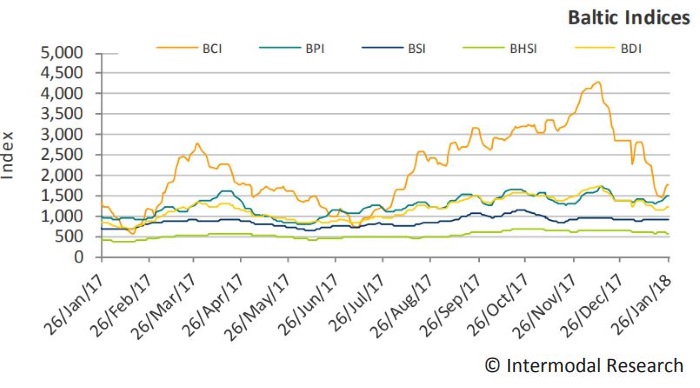 In its latest weekly report, shipbroker Intermodal said that "days before the celebrations of the Lunar New Year, the dry bulk market seems to be holding well, against negative predictions. Period numbers reported are close to last done levels and despite the pressure in the beginning of the month, the spot market also seems to be resisting a further drop during the past week. All this has helped S&P activity to stay rather strong during a time when buyers traditionally remain on the sidelines".
Intermodal's Timos Papadimitriou, SnP Broker, raises the question though that "even if even if 2018 ends up being a good year overall for the dry bulk market or even better than 2017; how long can this last?" He says: "don't get me wrong, I am not expecting a collapse or a blood bath. After the lengthy period during which the massive orderbook had been casting a shadow over earnings and chocking any efforts for recovery, the market seems to have finally started reaching a balance and by this I mean that we are finally heading towards a cyclical behavior of transparent highs and lows".
Papadimitriou adds that "now in regards to the duration of those ups and downs, this is yet to be seen but nonetheless a more predictable or at least foreseeable market is something that ship owners, charterers and yards would love to experience again after many years of uncertainty".
Meanwhile, in the wet market, Intermodal's broker said that "we have witnessed rather short cycles in the tanker market with highs and lows being fully developed in a span of 34-44 months. But as far as tankers are concerned, we have also seen a solid differentiation between the crude and product market. It is not wrong to even talk about two different markets instead of unifying them under a single tanker market. The shorter cycles have caused shrinkage of the duration of any windows for buying low or selling high. It is not unreasonable to expect that the dry bulk market will eventually start to show similar patterns if the aforementioned balance occurs".
He adds that "it is hard to say if any specific dry bulk size segments that are highly dependable on very specific/limited number of cargoes will form sub-markets that will affect respectively asset values independently from the course of the sector as a whole as it has been the case for tankers. For example product cargo vessels have retained a more stable residual value (especially in the case of assets younger than 11 years) compared the crude carrying ships whose values appeared to be way more volatile. But this it not the main concern or question of this insight. The main point is that a return to a more cyclical market will indeed require better reflexes on behalf of investors when it comes to placing money into either second hand or newbuilding assets".
Papadimitriou concluded that "this will put pressure to investors to have cash or finance easily accessible when opportunities arise. How will this influence the overall ship-owing land scape is yet to be seen. All of the above is pure speculation. For what is worth, we might be in the doorstep of another super cycle that will last more than 4 years. Time will tell".
Nikos Roussanoglou, Hellenic Shipping News Worldwide.
Πηγή: www.hellenicshippingnews.com