Ship owners are still looking to modernize their dry bulk fleet in a bid to maximize earnings once the looming up cycle is well underway. In its latest weekly report, shipbroker Allied Shipbroking noted that "things seemed to have been slightly slower on the activity front reported this past week, although the gap seemed to have been present from the lack in activity outside the Dry Bulker and Tanker sectors.
On the Dry Bulk side we were still seeing a fair amount of new orders coming to light with a relatively similar focus to what we have been seeing of late. On the Tanker side of things we were also seeing a picture which was in line with the new orders being reported since the start of the new year.
Product tankers are still being the main focus of new investments, while we are seeing a slight peaking of interest for the larger VLs, with many in the market feeling that there opportunity to take up despite the recent trends on the earnings front.
In terms of pricing, overall things still seem to be relatively flat, although we are hearing of many shipbuilders having up their asking levels, something that may well translate into higher prices down the road as buyers start to take up these levels looking to secure the early slots available for 2020 before interest starts to peak", Allied said.
In a separate weekly report, Clarkson Platou Hellas added that "in Tankers, Kyoei Tanker have announced an order for one firm 310,300 DWT VLCC at Namura Shipbuilding.
This vessel will be delivered in 2H 2020 from Imari, Japan. Although contracted earlier this year, it came to light this week that Clients of Central Shipping Monaco have extended their series of 50,000 DWT MR Tankers at Hyundai Mipo Dockyard (HMD) by declaring an option for one additional unit.
Set for delivery in 3Q 2019, this will be the 2nd vessel in the series. From China, Fujian Mawei Shipbuilding have won an order for six firm plus four optional 23,500 DWT Product Tankers from Ocean Tankers.
The firm units are scheduled to deliver throughout 2020.
In Dry, Pan Ocean have signed a contract for six firm 325,000 DWT VLOCs with New Times Shipbuilding in China. The vessels will be delivered from 2019 until 2021 and are backed by a long-term COA to Vale.
On the smaller sizes, Wisdom Marine have announced on order at Imabari for two firm 37,800 DWT Handysize Bulk Carriers for delivery in 2020.
There is one order to report in Gas, with HHI winning an order for three firm 84,000 CBM VLGCs from Kuwait Oil Tanker Co.
Delivering from 2019, these gas carriers will be built at HHI's Ulsan facility", the shipbroker concluded.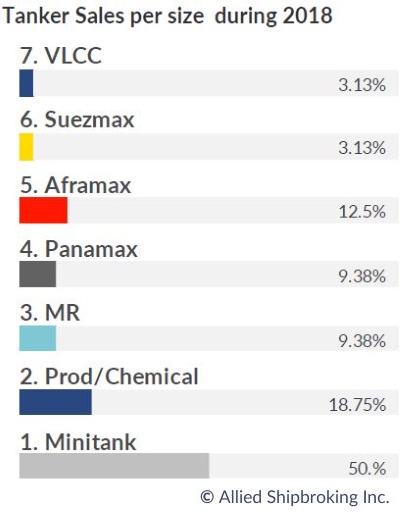 Meanwhile, in the S&P market this past week, Allied said that "on the dry bulk side, the market is still showing a strongly bullish face, with activity still rolling at a relative high pace, while of late strong signs of price increases are showing face.
This past week we underlining rumours have emerged of a couple of vessels in the market seeing a strong number of interested buyers making inspection and even showing a willingness to heavily compete on the price front, driving for a fair premium to be eventually paid against the last done similar deals reported.
On the tanker side, the volume being seen is still fairly soft, while this week it seemed as though things dropped further.
Taking a look at the deals that emerged this past week, it is of note to point out that all the units that changed hands were vessels of above or close to 15 years of age mark".
Source:: www.hellenicshippingnews.com